About
Kyoto sushi & steak was established in December of 2002. It is a slice of Japan in the heart of Overland Park. Featuring the authentic flavors and styles of Japanese, Sushi and Hibachi cuisine, we offer a variety of seating options. Dine at tables or in a booth, in traditional Japanese style tatami rooms, or at the hibachi grill where you gather around grills and watch amazing chefs perform their culinary magic shows. We also have the longest sushi bar in town. Come in to get a great Japanese experience, all at Kyoto Sushi & Steak!

Kyoto sushi & steak offers approximately 20 different varieties of fish and a broad range of cooked dishes, from unusual yakisoba noodles and tempura to authentic appetizers and daily specials. We have four teppanyaki dining areas where our master chefs artfully chop fresh fish, meats and vegetables and stir fry it all right at your table. This communal ritual is a trip to the cultural and flavorful heart of Japan.

Kyoto is family owned and operated. Our master chefs, who have been with us over ten years, are part of our extended family. They each bring their individual talents to give you a fun, entertaining and authentic dining experience.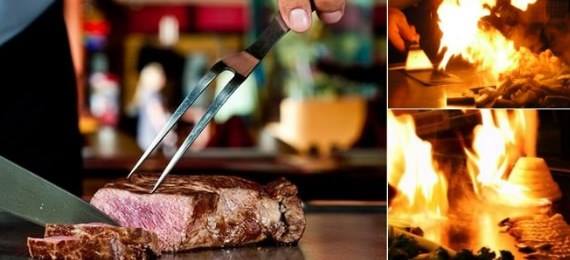 To accomodate every schedule, Kyoto is open seven days a week for both lunch and dinner, offering lunch specials Monday through Saturday. After work, come join us for sushi happy hour Monday through Friday from 2:30 until 6 pm. To accompany our fabulous cuisine, we offer a wide variety of cocktails, Japanese and domestic beers, and an extensive wine list.

Although we have won numerous awards over the years and have been nominated as one of the top ten restaurants in Overland Park, our greatest satisfaction comes from seeing customers come back to enjoy themselves time and time again. We would like to thank all of our patrons, new and old, for helping us evolve into the area's "Best Sushi & Steak House ".  

The staff of Kyoto has brought together their individual talents to provide you with our fabulous teppanyaki show, and of course the most extensive sushi available anywhere. Kyoto sushi & steak invites you to bring your family, friends and co-workers to come and experience our quality food, service and atmosphere!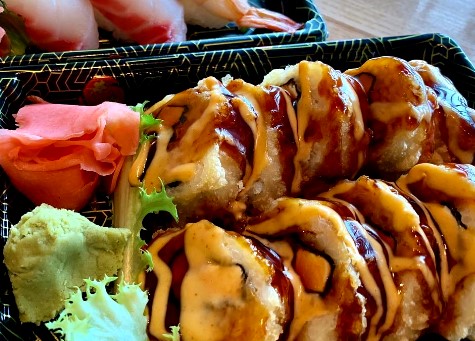 Good Food and Big Fun
For an authentic Japanese fine dining experience, Kyoto Sushi and Steak Japanese Restaurant provides guests with a variety of dining options. You can enjoy a relaxing meal at a table or comfortable booth, take a seat at the longest sushi bar in Overland Park or book one of the restaurant's teppanyaki grills where the master chefs will prepare and grill your meal right in front of you. Lovers of fish will delight in sushi options that include spicy salmon sashimi, fresh tuna, yellow tail sashimi, uni and quail egg nigiri while the restaurant's main menu features dishes such as spicy crab salad, and gyoza dumplings.
For meat lovers, we also offer a variety of fine meats and steak. Anything you choose will be prepared to perfection at the Teppanyaki table right in front of you in the finest Japanese tradition. All of our hibachi dinners are served with an appetizer, soup, salad, and fried rice. Kyoto chefs use our homemade seasonings and exotic sauces and never add artificial flavors or MSG.
Our Customers Say
Best Sushi in Kansas City!
Really great place, I think it's the best Sushi in Kansas City!  I've lived in Santa Barbara and Chicago and this is the closest competition to the best in both those places.  Their rolls are really works of art.  Some of them have quite a bit of stuff on them, and some heavy sauces but that makes them that much better.. They also have some of the fresher fish I've had in town.  The service is great as well!
Michael R. Customer
Phenomenal Sushi & Steak restaurant.
This place is phenomenal, from the staff to the food, there isn't a better eating experience in Kansas City than Kyoto! Their Chefs put on a great show that's entertaining for adults and children alike. I'd suggest the KC Strip with Lobster Tail combination, and the Hot Sake is a great compliment as well. Highly, highly recommend Kyoto to anyone who enjoys a great time and delicious food.
Stéphane RoqueCustomer
"Great Japanese restaurant!"
My team at work wanted to go to a Japanese steakhouse for lunch and we saw this place on tripadvisor and decided to give it a shot. We were not disappointed. Our large team had a table to ourselves and Rod was our chef. He was so much fun and we had a great time joking around with him. The food was spectacular. We all had different things and we loved it all. The service was great and the lunch menu was very reasonably priced with lots of options. We will be back very soon!
LowensCustomer
Great place for birthday celebration.
Celebrated our granddaughters 14th birthday with dinner at Kyoto. Fabulous food and plenty of it. Our chef was very entertaining and fun to watch as he prepared our meals. Steak was delicious and cooked to perfection. Shrimp were tender and plentiful. Would return to this restaurant for any future event. Enjoyed every minute.
Sam N. Customer
"Not Only Good Food But Great Entertainment As Well!"
We've been to Kyoto many times and we enjoy it every time. Sometimes the wait is a bit long in order to get a station open to the Hibachi grill, but it is well worth it.

Just the experience of watching the chefs interact, create of lot of fun entertainment and cook good food at the same time is more than worth the wait.

My favorite is Calamari steak which is extremely tender and tasty every single time.
Ina S. Customer
"Great Sushi, fresh food."
I love going to the sushi bar for happy hour. Every visit is a great time. I love the food and the atmosphere. The sushi is prepared in right in front of you, either at the sushi bar or the hibachi bar. The staff is fun and entertaining and always serve a great meal.
Weston L. Customer